If you managed to read the Gaelic Life article on Ballycran's MacNamee award, then you'll know why Tara runs the Corcoran house and unassumingly carries the mantle of cornerstone and driving force for the household. Another 'Rock' for the Corcoran family you might say. And so it falls to Tara to tell us her own story. With the phone held between her shoulder and ear, you could hear the sound of a few dishes being rinsed under the tap, then asking for a 'wee minute', she moved away to the kitchen table where the only background sound to be heard now in the quiet house was the chirping from a small parrot. No doubt we'll hear more about that later.
Tara, can you tell us what was the biggest challenge in the initial phase of lockdown and have you managed to adjust to this?
"I guess, probably getting two teenage boys out of their beds was the initial challenge! After that, making sure everyone is happy, not fretting about what's going on around us, getting on with the school work and avoiding boredom setting in."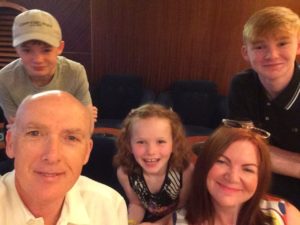 The Corcoran's enjoying family time on a holiday
"We've got a routine working now, where we are getting up at a good time, getting the schoolwork done and then enjoy a few activities peculiar to these lockdown times. Rory has finished for the year and was never more delighted to be honest that he hasn't to slog through exams. Conor is still remote learning and seems to enjoy an element of it but does miss spending time with his mates. Xbox simply isn't the same, he'd tell you that himself. Orla is happy with her home schooling and has great online support with 'Zoom' play dates with her P4 classmates.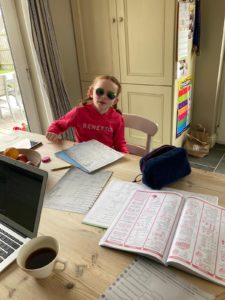 Home schooling gets a thumbs up from Orla
She's really enjoying her morning routine that revolves around a relaxed breakfast then schoolwork at the kitchen table. After that, they all pretty much figure out what they want to do and there's not a lot of bother thankfully."
Tell us what you've missed the most during lockdown?
"Like a lot of folk, I miss meeting up with my work colleagues and the freedom to do the normal stuff that just doesn't happen at the moment, like taking the kids out to the Park for training and getting the chance to have a chat with other parents. I don't miss all the other running about though!"
What are you looking forward to as we contemplate the easing of lockdown?
"That's pretty simple actually, meeting up with family and friends in a proper fashion and having the kids getting back to their sports, being able to meet their own friends and a general sense of things returning to some sort of normal."
Under the circumstances, what activities have you managed to do that you probably wouldn't have done without being in lockdown?
"I was enjoying the gym and spin before lockdown but I'll eventually get back to that. In the meantime I've adapted the bike for some indoor cycling and enjoy some of Joe Wicks' exercises on TV. Orla and myself have also started doing an online Irish language course and when the weather is kind, we get out into the garden to see what we can grow by the sea."
"With you [Michael] finishing off out in Gibraltar, Rory took the opportunity to dust off your [his Dad's] golf clubs and has been practicing down at the beach ahead of the driving ranges opening up.
Now the local golf club has opened and I suspect it could be a handy way for him to get a little bit more exercise under his belt, though he's been walking, jogging and trying out the indoor biking also. We bought a rebound net and an Orbit gadget and they all take turns to get some stick time in the evenings."
"Conor's been walking and jogging plenty and for his birthday got a Lovebird as a pet that he's training to whistle a few familiar notes. I think it's already trying to say it's name as in Hi Rick! He's really enjoying the whole experience and has been reading articles on their upkeep, diet and needs."
[Editors note: During the many Facetime calls back home, Conor's pet can be easily teased into action. Is it a coincidence that I received a letter during the height of the lockdown period enquiring if I had a pet in the apartment, which are banned under the apartment rules?]
"Orla has joined me for a few online language lessons and is enjoying the body boarding down at the beach and I almost forgot, some yoga."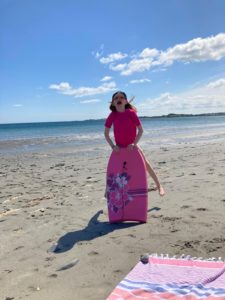 Body boarding during the lockdown sunny weather
Can you tell us what have the kids missed the most during lockdown?
"They'd tell you it's the normal things like meeting up with their friends, not being able to train for or play hurling and camogie in a team environment and basic activities like going to KFC, McDonalds and the cinema."
What are the kids looking forward to the most after lockdown?
"Apart from the things they say they've missed, they are all looking forward to getting out to the new facilities at McKenna and if there are no more flight cancellations, seeing their Dad in July!"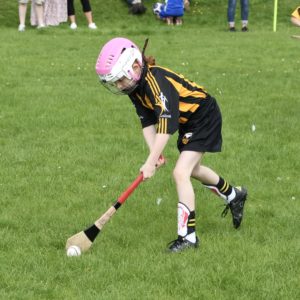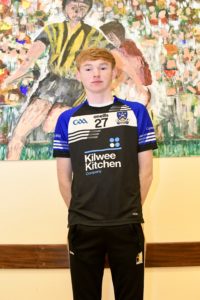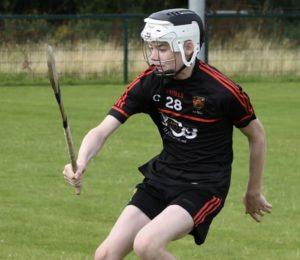 Orla, Rory and Conor looking forward to their GAA activities
Finally, do they have a favourite part of the lockdown period?
"Yes, everyone's enjoying the lie-in without the very early school starts. Breakfast is relaxed, no uniforms – Yay! And I guess it's been an opportunity for them to enjoy their surroundings more, lots of walks down to the shop and along the beach on the way back."
Thanks to the Corcoran family for sharing their lockdown experience with us.