It's been a challenging year for everyone and that includes your Club too. Without access to our regular well attended events throughout the year, funding the Clubs outgoings has been a particularly tough task.
We are planning a few Covid safe fund raisers but the good news is that there is something really easy you can do to help out at the same time you will be renewing your Club membership. For a small additional amount, you can get a Clubs draw ticket and that will set the wheels in motion to establish you in a monthly draw for super cash prizes AND the Club will get back some essential funding to help us pay those bills.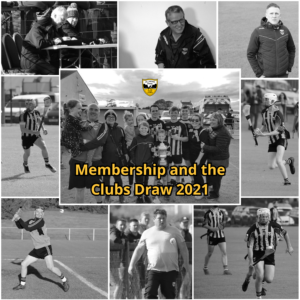 We all look forward to getting back to hurling, camogie and running our cracking events but in the meantime, we would truly appreciate members taking out the Clubs draw offer as part of their membership renewal – especially this year.
Remember what our players, members and supporters have been saying, "It's a no brainer – an essential piece of Club funding – value to the Club – benefits – opportunities"
We are conducting a covid safe drive through this Sunday 28th February in order to allow members to submit there choices and register for membership or you can contact Tony Bell personally or for total convenience, set up or use your Clubforce account to register your choices.  In case you have missed the membership renewal post with Clubforce App details, please click here…
https://ballycran.down.gaa.ie/membership-renewal-comes-around-again-with-clubs-draw-offer/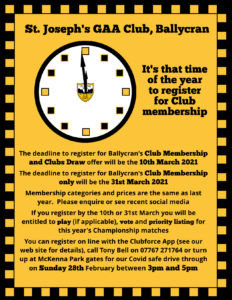 If you need some help in creating access to the Clubforce platform or filling in the short registration form, then please call Tony Bell (+44 7767271764) and he will put you in touch with Seán Gilmore (one of our Club registrars). Thank you!